With more than 8,900,000 vehicles shipped in 2018, Groupe CAT's Vehicle Logistics teams offer their expertise to assist you in designing, defining, rolling out and ensuring all the resources you need to achieve your goals.
Our services
We offer a full range of services at every stage in the supply chain.
From the design of logistics schemes to the delivery of your new or second-hand vehicles, our experts offer customised solutions to optimise your logistics costs.
We can either look after the entire supply chain for your products or deal with each stage, in the same efficient manner.
We have a duty to provide you with the service you need without disrupting the global organisation of your flows, information systems or your costs.
Our long-standing operational and administrative expertise guarantees that we can implement each of our services in a flexible and reactive manner, based on your needs.
Our key figures
In 2018, CAT Vehicle Logistics achieved a turnover of 1,350 million euros.
In the same year, CAT Vehicle Logistics:
Shipped 8.9 million new vehicles, including 30,000 industrial vehicles and HGV
Prepared 1,7 million vehicles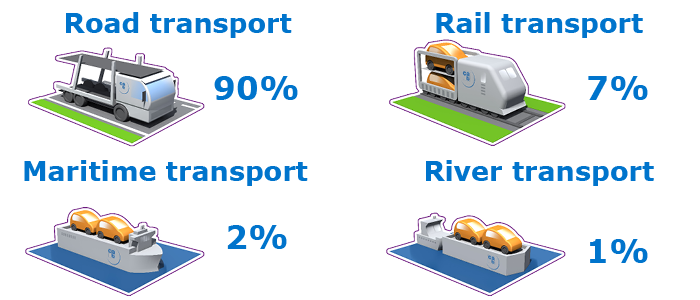 Physical and administrative management of flows of all your vehicles
Your logistics concerns are to…
Plan logistics costs over three years
Absorb the variations in flow
Protect vehicle quality until the end customer
Perform miscellaneous technical services on the vehicles…
… CAT Vehicle Logistics has answers for all your problems.
Whether you are a manufacturer, dealer, agent, rental company or trader, we have a global response for the logistics of your vehicles.
Because we understand your business perfectly: as we work with the main global manufacturers and are a historical partner with Renault, we are involved in all levels of the supply chain from production until final delivery.
Because our considerable transport capacity and our 120 international compounds give you the benefit of the power of a major logistics company right on your doorstep.
R&D Logisitcs
For you, car manufacturers, optimising logistics costs starts at the vehicle design phase.
Three or four years in advance, CAT Vehicle Logistics is part of the design phase of a model, to provide you with all related logistics parameters.
The dimensions and their consequences in terms of loading coefficient, protruding bodywork and risks of problems: logistics costs are preeminent in designing the style.
And because emotion goes hand in hand with the technical aspect of a car, we play a direct role in changing means of transport to adapt them to tomorrow's models and thus minimise your future costs.
Logistics become innovative and dynamic when associated with your creative phase as they are one of your competitiveness levers.
Information systems
Central intelligence for customised service.
We have developed a central smart system for our customers to manage transport operations and technical services.
Performance-competitiveness-reliability is a complex equation in logistics. Our computer engineers have therefore developed their own information system to provide you with the best performances that you can expect from us.
Centralised order processing and from local compounds, scheduling resources to be used, optimising distribution processes and monitoring the main stages over time: managing all operations within a central smart system ensures the best possible use of our capacities.
It is vital that we can receive or give information to our customers and the Groupe CAT information systems therefore offer the latest technology in system integration and remote connection in compliance with safety and confidentiality protocols.
Premium Quality
Offering you the best quality in the market.
Day-to-day quality is achieved by the men and women of CAT Vehicle Logistics. For this, they rely on our global performance improvement system which guarantees high quality standards. Our performances are measured by key indicators customised per customer or per contract.
We offer full quality management, including:
Problem management
Vehicle integrity
Damage repair
Supplier management
CAT Vehicle Logistics operates at several levels to minimise the risks and ensure vehicle integrity at all stages in the supply chain:
Optimisation per mode
Solid, homogeneous working processes and procedures
Vehicle inspection and administrative procedures
Availability of comprehensive insurance policy if necessary
Performance management with customised indicators and progress plans
Suitable equipment for repairing damage
Our customers recognize and regularly reward the quality performances of our teams.
Approaches
Multi solutions and multi suppliers of transport, CAT Vehicle Logistics deals easily with quality, cost and deadlines on your behalf.
Compliance with different country legislations, geopolitical contexts, disparity of services and administrative forms: we understand your difficulties as we deal with them every day.
Because logistics are not just about purchasing resources; our team of experts organises your vehicle flows from the factories or importers' sites to the various international markets.
Based on our huge transport capability and a multitude of suppliers, we have the resources to set up intermodal transport schemes. This organisation also means we can offer very competitive prices.
Depending on your cost and deadline requirements, our logistics engineers are very flexible when coordinating your flows so that your private cars arrive just in time.
Like all our operations, approach transport is incorporated into our global information system to provide you with an overview of your flows in real time.
Distribution
One of your main concerns.
We distribute your vehicles worldwide from our local compounds or directly from your storage yards.
To supply your distribution network reliably, we deliver your vehicles taking into account:
– The quality standards and associated methods
– The opening hours of your sales outlets
– The commercial constraints
– The urban restrictions
Whilst you benefit from our global capacity:
– Optimised prices as scheduling system
– Guarantee of delivery offered based on agreements made
– Possible delivery round-the-clock, six days a week
Launch, event, salon: CAT Vehicle Logistics can also assist you with the logistics for your special operations.
Industrial Vehicles
CAT Vehicle Logistics includes a specific High and Heavy department.
With our special resources, on-the-road services and customs formalities, we arrange international logistics for more than 60,000 industrial and agricultural vehicles every year.
Since 2014, CAT has boosted its investments and acquired even more resources for transporting the H&H (high and heavy) for all its customers.
Custom Services
Covering all your customs and fiscal formalities using our unique expertise.
As a customs broker since 1975, the Groupe CAT offers its customers a range of specialist services covering all requirements for customs and fiscal formalities.
Our comprehensive knowledge of community regulations allows us to offer a customised service regardless of customs regimes and facilities offered by the French customs and fiscal authorities.
We can store goods under bond in one of our many vehicle warehouses and storage yards in Europe.
The CAT systems are connected directly to the European customs authorities by EDI, meaning more fluid exchanges and virtually instantaneous release of goods.
Our AEO certification provides you with the best customs and administrative security and facilities.
120 vehicle logistics compounds at your service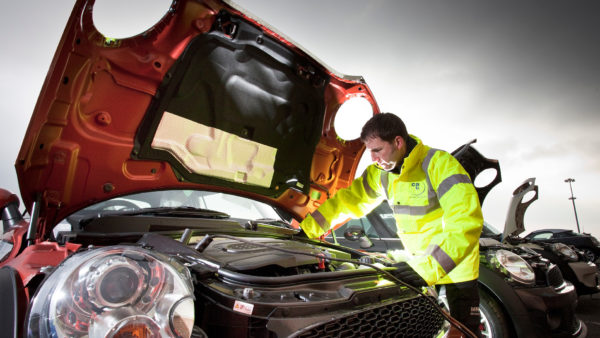 We have put together a network of 120 vehicle logistics compounds to operate as close as possible to your markets.
Optimisation of city centre storage areas, quality control before final delivery, technical services provided without extra transport cost, visibility over the stocks – our compounds offer a set of services to optimise your distribution channels.
Whether you are a dealer, rental company, trader or any other automobile professional, all our compounds provide a highly comprehensive range of services:
Storage
Washing/protection removal of vehicles to environmental standards
Preparation
Control of vehicle integrity
Vehicle maintenance
Fitting of accessories
Inside layout professional vehicles
Delivery to end customer
Handover
All these services, which are coordinated by our IS, are carried out by automobile professionals. They operate in accordance with manufacturer, supplier or customer standards with the associated guarantees.
Service Compounds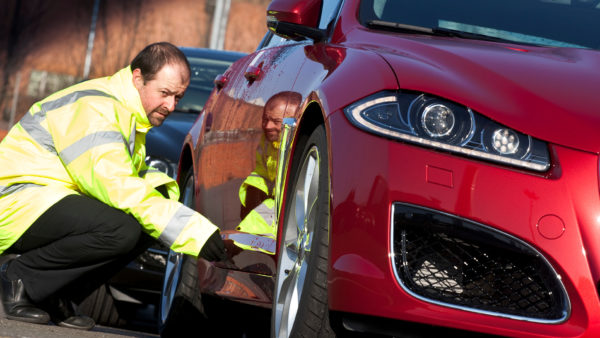 The way to obtain the best net selling price for your second-hand vehicles.
Expertise, storage time, upgrading, transport and resale channels: there are many factors influencing the appeal of your second-hand vehicles.
Car manufacturer, car leasing company, short-term rental company or manager of a car fleet, CAT Vehicle Logistics provides all or some of the services throughout the life of a second-hand vehicle.
We combine our services into a full, customised logistics pack which includes:
– Regional or international transport of individual or batches of vehicles by specialist carriers employing experienced, qualified drivers
– Secure interim storage and on-site management
– Expert assessment of vehicles by qualified employees using cutting-edge technologies to speed up the control procedures of predefined quality standards
– Renovation services using smart and traditional repair techniques as per predefined quality standards
– Sales support favouring visibility and decision-making throughout the remarketing process
Factory management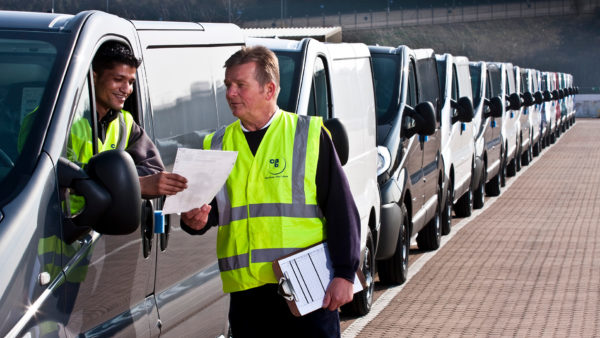 Safety, integration, adaptation and protection: four priorities to which we are committed and which dictate the management of a despatch compound.
Safety: we guarantee that the factory despatch compound is not saturated. The evacuation of vehicles produced is our absolute priority: we organise our human resources, systems and means of transport based on your production requirements.
Integration: we know how to integrate our infrastructures and systems with your production logic. Direct connection to the factory computer system, support with production problems (e.g. quality blocking): our every day customer support is totally confidential.
Adaptation: we adapt to production fluctuations in real time. Our entire organisation can deal with production peaks or troughs. Strategic and operational scheduling, specific human resource management methods, smart resource allocation system: our unique qualities allow us to adapt when needed.
Protection: we guarantee vehicle integrity. The factory quality standards are incorporated fully into our procedures. Long-term maintenance, realignment, work on vehicles: we offer manufacturer-standard technical services to protect production quality.
With more than 1,700 own lorries in 2018, the CAT fleet has all performance features to satisfy our customers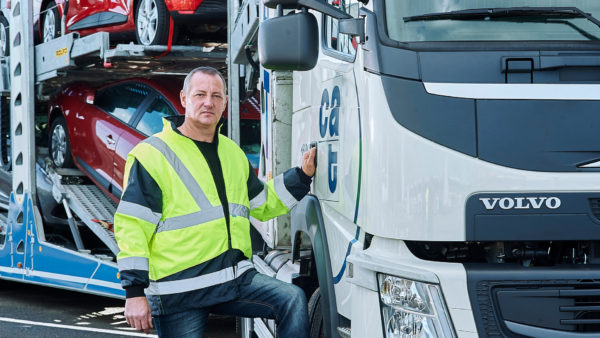 We invest heavily in the CAT fleet every year to maintain our road resources very fully available and present in all our markets. Our lorries and trailers are fitted with the latest on-board technologies for real-time monitoring of your goods and vehicles and are compliant with the latest anti-pollution standards in force on the European continent.
All our drivers have attended responsible eco-driving training and on handling your goods and vehicles through rigorous quality protocols.
In 2017, two hundred new trailers will be added to our fleet between April and December throughout Europe.
Our fleet makes us stand out
A tool serving our customers
The Groupe CAT has been continuing with its major investment policy and building up its fleet since 2007.
The Groupe CAT is today represented/installed in fourteen Euromed countries as a major player in automobile logistics.
The CAT fleet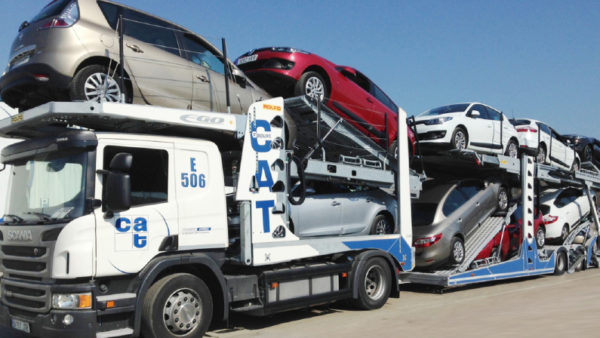 Broad geographical coverage
Quality criteria guaranteed
Meets the requirements of environmental standards (450 trucks Euro 6 entered in CAT fleet in 2 years)
Full range of transport capacities to meet diverse demand
A smart fleet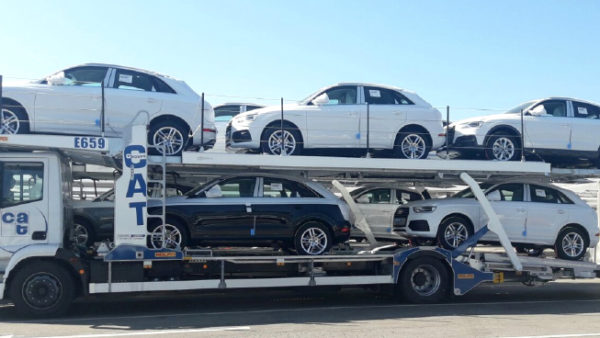 Innovative tools to optimise the fleet
The CAT fleet is at the cutting edge of technology:
Geolocalisation
The entire fleet is geolocalised in real time (itinerary search, road traffic, traceability, etc.), interfacing with the TMS tools (Transport Management System)
FMS (Fleet Management System)
Optimises the technical performance of equipment (consumption, servicing, monitoring technical inspections)
Sixty years experience in Automobile logistics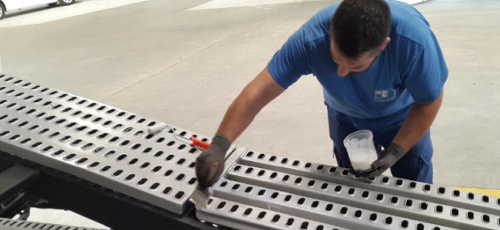 The commitment of a skilled, motivated team in operations, on the road or on the customer's premises.
Fleet trades
Transport operation professionals (dispatchers, fleet managers)
Technicians (mechanical, bodywork, etc.)
Drivers, instructors, loaders
Our strong points
Broad range of trades
On-going professional support using innovative educational tools:
Initial training
Skill monitoring
Continuous training
Many chances to upgrade (geographical mobility, career changes/opportunities)
Constantly renewed fleet